RESCHEDULED: Balboa Rube Powell Archery Range Work Party Saturday, November 14, 2020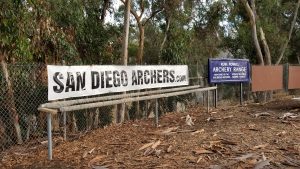 Balboa Park Rube Powell Archery Range Work Party
RESCHEDULED for Saturday, November 14, 2020
7:00 a.m. – 11:00 a.m.
We had to reschedule due to rain. See you in a week.
Return targets onto their stands, replace blue guide posts, general clean up, paint over graffiti, trash pick-up & more!
Hello Archers of San Diego!
Please join us for a work party this Saturday, November 7 from 7:00 a.m. to 11:00 a.m..  We need to put the vandalized targets back on their stands along with replacing the blue guide posts at the correct target location.  We'll also paint over the ever present graffiti and pick up any trash on the range.  We ask you to bring your mask, eye protection and gloves.  If you will be within 6 feet of another person, masks will be worn.
Start time: 7:00 (or as early as you can make it)
Safety Glasses / Face Shield
Gloves / Long Pants, Long Sleeves and Boots recommended
Paint brushes / Paint Rollers
We have a pitchfork, a few rakes & shovels (or bring your favorite!)
Tasks:
Prepare targets and shooting lanes for upcoming Hunter Round on 15 November.
Repair/replace bales and target faces on the practice range and course targets as needed.
Consolidate green waste near the lower container.
Use old bale materials to fill in areas prone to erosion.
Paint over any graffiti on the lower container and bridge.
We know your weekends are busy so it's okay if you can only come for a short time.  Everyone is welcome; many hands make light work.
Thanks everyone! We really appreciate your help.