Flying Pig 3D – 01 February 2015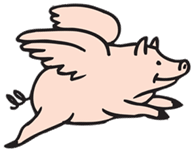 ATTENTION ALL ARCHERS
It is time for the 
Annual Flying Pig 3D Tournament!!
Will host this fun, novelty event
This Sunday, February 1, 2014
At the Balboa Park Rube Powell Archery Range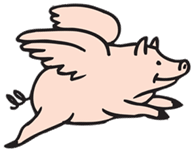 Registration opens at 7:30am
Registration closes at 8:45am
Shoot begins at 9am
THE FLYING PIG 3D SHOOT
~Range Finder Allowed~
If you know anything about the local flora and fauna of the Balboa Park area of San Diego you will be aware of not only the existence but also the migratory patterns of the Pink Lesser Spotted Rhinehart Flying Pig.
For those of you who are less familiar with this legendary exodus, all indications point to the migration beginning on Sunday, February 1st, 2015, starting at 9.15am and lasting until around noon. During this time we anticipate that each person will get at least one chance to shoot at this unusual creature during its majestic flight across the Balboa Park skies. (plus 27 other targets)
So, get out your bows and start practicing. Registration for this range finder-approved novelty 3D event starts at 7:30 am.
This is a 1 arrow,  novelty 3D shoot.  You'll find the Pink Lesser Spotted Rhinehart Flying Pin\g and a wide range of high quality Rhinehart and Mackenzie targets set at unmarked yardages in various hunting scenarios.
Entry fee $15 per person, $10 for members
Note: As with all 3D shoots – We will shoot come Rain or Shine.
Please arrive at the Balboa Park Archery Range with plenty of time to register.
Shooting starts at 9:00am.
Please send any questions or comments to: SanDiegoArchers@yahoo.com