Halloween 3D – 31 Oct 2015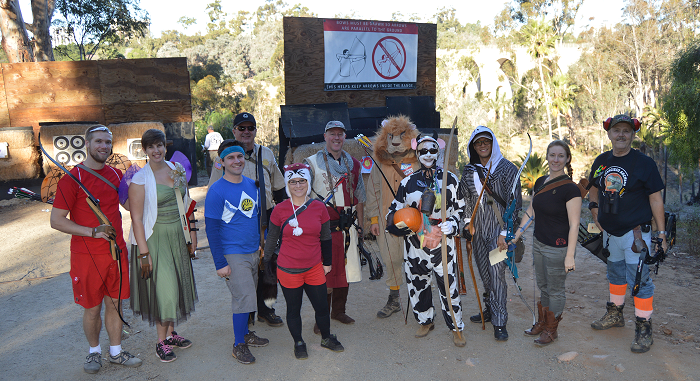 Halloween 3D Round
October 31, 2015 
Congratulations (again!) To Jeff Harris!
Top score of both the Pumpkin+3D Shoot and 3D-Only Shoot:
334 + 8 X's and 276 + 8 X's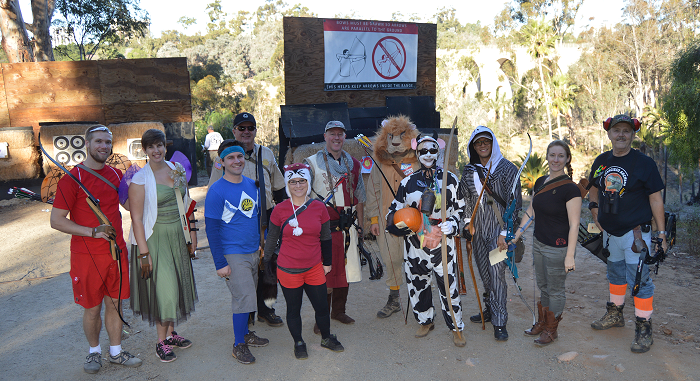 We hope everyone enjoyed our Halloween 3D Shoot this year! In addition to the usual 28 3D targets, we added 6 bonus (real) pumpkin targets, including the challenging "Watermelon-Pumpkin Spread" (just like the Buck-Doe Spread). An additional 10 points was awarded to anyone who wore a costume. As this was our first Pumpkin Shoot (in recent years, anyway), we were making up the rules and scoring as we went along, so there was a bit of confusion in adding scores. Below, you will find the first table with scores from the full pumpkin shoot (34 targets) and, below that, the scores from just the 28 3D targets. We are proud to point out that Jeff Harris had the high score of the day in both categories, even though he did not wear a costume…but he was wearing his Team Bow Tech shirt very well!
~68 archers showed up, with nearly a dozen in costume (57 scorecards turned in).
Pumpkin+3D Shoot Results
Pumpkin Shoot Max Score: 350 Points
(Each scorecard was recalculated before posting here. Numbers in red below indicate corrections after the scorecard was recalculated. This affected top placement in a few styles, but remember, this was a fun shoot. We hope everyone had good time. If you did not receive your proper award pin, please let us know at the next shoot.) 
| | | | | |
| --- | --- | --- | --- | --- |
| Style | Name | Pumpkin Score | Pumpkin X's | Pumpkin Place |
| CFSRC | Kessel, Stella | 154 | 2 | 1 |
| CMSFC | Dill, Austin | 48 |   | 1 |
| CFNFR | Doherty, Claire | 81 |   | 1 |
| CMNFR | Dooney, Dakota | 48 |   | 1 |
| YAMBHFS | Adams, Daniel | 203 | 1 | 1 |
| MSMTRAD | Akin, Larry | 192 | 1 | 1 |
| MSMBHFS | Riess, Bob | 272 | 4 | 1 |
| MSMBHFS | Ahrensberg, Dan | 252 | 3 | 2 |
| MSMFS | Richardson, Rod | 290 | 7 | 1 |
| SMTRAD | DeLeon, Don | 184 | 2 | 1 |
| SMTRAD | Gibbons, Mark | 104 |   | 2 |
| SMBB | Hartman, Phil | 208 | 2 | 1 |
| SMBHFS | Norman, Duane | 285 | 5 | 1 |
| SMBHFS | Tahmahkera, Steve | 201 | 2 | 2 |
| SFFS | Ralston, Diana | 285 | 5 | 1 |
| SMFS | Tevis, Louie | 287 | 4 | 1 |
| SMFS | Lyford, Larry | 280 | 9 | 2 |
| AFTRAD | Porter Kaitlyn | 102 | 1 | 1 |
| AFTRAD | Koutz, Patty | 85 | 1 | 2 |
| AFTRAD | Winn, Meredith | 75 |   | 3 |
| AMTRAD | Harrel, Russ | 167 | 3 | 1 |
| AMTRAD | Westhaver, Nick | 162 |   | 2 |
| AMTRAD | Pak, Tony | 136 | 1 | 3 |
| AMTRAD | Miller, Steve | 132 |   |   |
| AMTRAD | Winn, Matthew | 114 |   |   |
| AMTRAD | Porter Josh | 98 |   |   |
| AMTRAD | Delgado, Daniel | 69 |   |   |
| AMBB | Zuniga, Joe | 185 |   | 1 |
| AMBB | Fleming, Dana | 143 | 1 | 2 |
| AFBHFS | Seifert, Sarah | 216 | 3 | 1 |
| AFBHFS | Sanders, Stacy | 175 | 1 | 2 |
| AFBHFS | Woodward, Kayla | 144 | 3 | 3 |
| AFBHFS | Westhaver, Debra | 108 |   |   |
| AMBHFS | Kessel, Paul | 319 | 8 | 1 |
| AMBHFS | Samson, Douglas | 307 | 6 | 2 |
| AMBHFS | Roberts, Lance | 299 |   | 3 |
| AMBHFS | Grossman, Michael | 287 | 6 |   |
| AMBHFS | Adams, Chuck | 280 | 9 |   |
| AMBHFS | Pole, Kenneth | 267 | 5 |   |
| AMBHFS | Seifert, Troy | 262 | 2 |   |
| AMBHFS | Groth, Mike | 261 | 1 |   |
| AMBHFS | Doherty, Matthew | 244 |   |   |
| AMBHFS | Reed, Jeffrey | 231 |   |   |
| AMBHFS | Mackay, Scott | 224 | 2 |   |
| AMBHFS | Wilcox, Eric | 205 | 2 |   |
| AMFS | Harris, Jeff | 334 | 8 | 1 |
| AMFS | Omel, Mark | 322 | 11 | 2 |
| AMFS | Ridgeway, Devin | 321 | 7 | 3 |
| AMFS | Cooper, Sylvester | 320 | 12 |   |
| AMFS | Dooney, David | 306 | 5 |   |
| AMFS | Bamfield, Graham | 298 | 8 |   |
| AMFS | Rayl, David | 291 | 3 |   |
| AMFS | Sheehan, Garrett | 279 | 5 |   |
| AMFS | Moore, Rich | 272 |   |   |
| AMFS | Sheehan, Donald | 250 | 6 |   |
| AMFS | Bell, Steve | 232 |   |   |
| AMFS | Sanders, William | 231 | 1 |   |
3D-Only Shoot Results
3D Max Score: 280 Points 
| | | | | |
| --- | --- | --- | --- | --- |
| Style | Name | 3D         Score | 3D            X's | 3D      Place |
| CFSRC | Kessel, Stella | 121 | 1 | 1 |
| CMSFC | Dill, Austin | 48 |   | 1 |
| CFNFR | Doherty, Claire | 76 |   | 1 |
| CMNFR | Dooney, Dakota | 48 |   | 1 |
| YAMBHFS | Adams, Daniel | 172 | 1 | 1 |
| MSMTRAD | Akin, Larry | 176 | 1 | 1 |
| MSMBHFS | Riess, Bob | 218 | 4 | 1 |
| MSMBHFS | Ahrensberg, Dan | 216 | 3 | 2 |
| MSMFS | Richardson, Rod | 244 | 7 | 1 |
| SMTRAD | DeLeon, Don | 171 | 2 | 1 |
| SMTRAD | Gibbons, Mark | 94 |   | 2 |
| SMBB | Hartman, Phil | 168 | 2 | 1 |
| SMBHFS | Norman, Duane | 232 | 5 | 1 |
| SMBHFS | Tahmahkera, Steve | 183 | 2 | 2 |
| SFFS | Ralston, Diana | 239 | 5 | 1 |
| SMFS | Lyford, Larry | 237 | 9 | 1 |
| SMFS | Tevis, Louie | 225 | 4 | 2 |
| AFTRAD | Porter Kaitlyn | 82 | 1 | 1 |
| AFTRAD | Koutz, Patty | 75 | 1 | 2 |
| AFTRAD | Winn, Meredith | 65 |   | 3 |
| AMTRAD | Harrel, Russ | 152 | 3 | 1 |
| AMTRAD | Westhaver, Nick | 134 |   | 2 |
| AMTRAD | Pak, Tony | 131 | 1 | 3 |
| AMTRAD | Miller, Steve | 122 |   |   |
| AMTRAD | Winn, Matthew | 99 |   |   |
| AMTRAD | Porter Josh | 88 |   |   |
| AMTRAD | Delgado, Daniel | 61 |   |   |
| AMBB | Zuniga, Joe | 151 | 1 | 1 |
| AMBB | Fleming, Dana | 143 | 1 | 2 |
| AFBHFS | Seifert, Sarah | 201 | 3 | 1 |
| AFBHFS | Sanders, Stacy | 165 | 1 | 2 |
| AFBHFS | Woodward, Kayla | 121 | 3 | 3 |
| AFBHFS | Westhaver, Debra | 108 |   |   |
| AMBHFS | Kessel, Paul | 261 | 5 | 1 |
| AMBHFS | Roberts, Lance | 247 |   | 2 |
| AMBHFS | Samson, Douglas | 244 | 6 | 3 |
| AMBHFS | Adams, Chuck | 242 | 9 |   |
| AMBHFS | Grossman, Michael | 235 | 6 |   |
| AMBHFS | Pole, Kenneth | 229 | 5 |   |
| AMBHFS | Doherty, Matthew | 229 |   |   |
| AMBHFS | Seifert, Troy | 223 | 2 |   |
| AMBHFS | Groth, Mike | 218 | 1 |   |
| AMBHFS | Reed, Jeffrey | 201 |   |   |
| AMBHFS | Mackay, Scott | 188 | 2 |   |
| AMBHFS | Wilcox, Eric | 172 | 2 |   |
| AMFS | Harris, Jeff | 276 | 8 | 1 |
| AMFS | Cooper, Sylvester | 264 | 12 | 2 |
| AMFS | Omel, Mark | 264 | 11 | 3 |
| AMFS | Ridgeway, Devin | 263 | 7 |   |
| AMFS | Dooney, David | 258 | 5 |   |
| AMFS | Moore, Rich | 251 |   |   |
| AMFS | Bamfield, Graham | 242 | 8 |   |
| AMFS | Rayl, David | 237 | 3 |   |
| AMFS | Sheehan, Garrett | 236 | 5 |   |
| AMFS | Bell, Steve | 211 |   |   |
| AMFS | Sheehan, Donald | 202 | 6 |   |
| AMFS | Sanders, William | 191 | 1 |   |