Season Opener Results! – 11 August 2019
Thank you to everyone who joined us for the Second Annual Season Opener 3D Shoot. This was a very challenging shoot and everyone had a such great time!!  A special thank you to Travis Bowman and his fantastic team of volunteers (primarily Louis Bacling, Melanie Lucia, Tammy Terra, Doug Samson and many more).  The target sets were amazingly clever and closely mimicked the type of shot you might find yourself making while in the field going after the buck of a lifetime.  We hope this shoot provided a better appreciation of what shots are high percentage, ethical shots for you from those that are better left untaken to prevent a wounded, unrecovered animal.
The archery divisions were very simple: Compound/Traditional, Male/Female, Hunter/Non-Hunter.
A very special THANK YOU goes out to Bruce Marshall from the Bow & Arrow Shop who generously donated some amazing prizes including Vortex binoculars, Horn Hunter Fanny Pack and a Rinehart elk target among many other fantastic prizes!  Also, Devin O'Dea provided two dozen arrows from Victory Archery as raffle prizes to everyone who successfully shot the Victory Archery steel target.
Below are the results in the Hunter division followed by the Non-Hunter division.
Congratulations to:
LaNette Branson – Top Female Hunter Score (FH):
179 points + 1 X
_______
JD Basden – Top Male Hunter Score (MH):
 266 points + 8 X's
_______
Clarissa Bond – Top Female Non-Hunter Score (FN) & Highest Female Score of the Day:
 239 points + 4 X's
_______
Daryl Robinson – Top Male Non-Hunter Score (MN) & Highest Overall Score of the Day :
 272 points + 7 X's
_______
Alex Granick – Top Male Trad Score (MH) of the Day: 
 135 points + 3 X's
_______
Heather Kloes – Top Female Trad Score of the Day:
77 points
_______
28 3D animal targets: 325 total points and 28 X's possible.
Turnout:  116 archers registered, 85 scorecards turned in; 93 Hunters registered (86 males, 7 female); 23 Non-Hunters registered (15 male, 8 female).  There were 4 Cubs (all female) who registered and 11 archers shot in the TRAD category.
HA! Here's how my day went!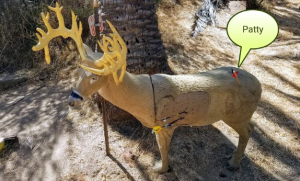 ☞ Click to view full-width page
_______
Check out San Diego Archers updates on Social Media!!!
Facebook: https://www.facebook.com/sdarchers
Twitter: https://twitter.com/sandiegoarchers
Instagram: https://www.instagram.com/san_diego_archers