Field Round
The San Diego Archers
Will host the Hunter Round
This Sunday, March 19, 2017
At the Balboa Park Rube Powell Archery Range
Registration opens at 7:30am
Registration Closes at 8:45am
Shoot begins at 9am
The Field Round includes:
28 2D Paper Hunter Targets
4 Arrows per Target
Maximum Score: 560
No Rangefinders allowed
The Field Round is a field archery tour­na­ment of 28 2D paper tar­gets, fir­ing 4 arrows per tar­get from WHITE col­ored stakes for a total of 112 arrows. There are 3 scor­ing zones on each tar­get. Each arrow scores either 3 points for the out­er black ring, 4 for the mid­dle black ring or 5 the black bull's eye. There is a cen­ter X ring to the inner 5 point zone.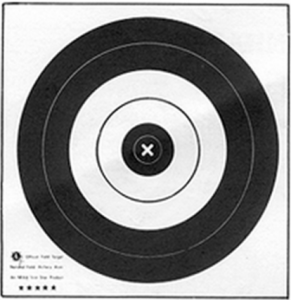 Add up each arrow's score to give a total score out of a max­i­mum 560.
Field Rounds are at 'even' (5 yd) dis­tances up to 80 yards, with the short­est dis­tances mea­sured in feet.
Targets may have different shooting positions:
1) All four arrows shot from one marked stake.
2) "Fan": Each arrow shot from a dif­fer­ent marked stake spread in a fan pat­tern, with each stake at the same dis­tance to the tar­get.
3) "Walk Up": Each arrow shot from a dif­fer­ent marked stake at decreas­ing dis­tances to the tar­get. For exam­ple, one arrow each at 45, 40, 35, 30 yards, or two arrows each at 45 and 40 yards.
For Youths:

Under 15, the longest dis­tance is 50 yards.
For Cubs, under 12, the longest dis­tance is 30 yards.
Entry Fee:
$10 for SDA members & Active Duty Military
$15 for non-members.
Please arrive at the Bal­boa Park Archery Range with plen­ty of time to reg­is­ter.
Paper shoots may be can­celed due to heavy rain (Ani­mal, Hunter, Field Rounds).
3D Shoot are NOT can­celed because of bad weath­er!
If you would like to fill out the Mem­ber­ship Appli­ca­tion and Waiv­er Form in advance, please click on the links below to print the forms.
Turn in the forms with pay­ment at any tour­na­ment reg­is­tra­tion or mail to:
San Diego Archers
PO Box 2205
La Mesa, CA 91943
Don't know your spe­cif­ic bow style? Check out this great chart from CBH!