Iron Turkey 3D Challenge – 5 Mar 2017
Iron Turkey 3D Challenge Novelty Shoot

The San Diego Archers
Will host the Iron Turkey 3D Challenge
This Sunday, March 5, 2017
At the Balboa Park Rube Powell Archery Range
Registration opens at 7:30am
Registration Closes at 8:45am
Shoot begins at 9am
The Iron Turkey includes:
34 3D Targets
1 Arrow per Target
Maximum Score: 355
No Rangefinders allowed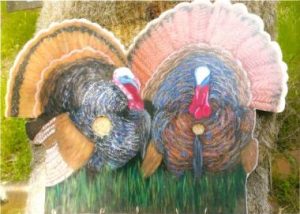 Leg­end Leg­end has it that deep with­in the under­growth of Bal­boa Park struts the vora­cious Iron Turkey. Many a bold archer has risked arrow and limb con­fronting the fiend, only to have their pre­cious shafts shat­ter to shards of car­bon upon the beasts iron scaled hide.
The tale goes that one coura­geous archer, known only as Dave the Daunt­less, fired a mag­i­cal black arrow at the fowl beast. This shot broke away small scales from its Iron-clad breast reveal­ing two small vul­ner­a­bil­i­ties. A mighty archer of great skill and cun­ning could exploit this weak­ness and suc­cess­ful­ly impale the crea­ture, as for the rest.… Your arrows will sure­ly splin­ter.
This a 34 tar­get, ONE arrow per tar­get shoot, includ­ing the Iron Turkey and many oth­er inter­est­ing shots to test your skill: The Blind Shot, the Jakes, and the Dis­tant Gob­bler.
Hone your skills in antic­i­pa­tion, shoot until your limbs ache and your fin­gers bleed, for that is what it will take to tri­umph in this chal­lenge.
Entry Fee:
$15 for SDA members & Active Duty Military
$20 for non-members.
Please arrive at the Bal­boa Park Archery Range with plen­ty of time to reg­is­ter.
Paper shoots may be can­celed due to heavy rain (Ani­mal, Hunter, Field Rounds). All 3D shoots will shoot come rain or shine.
If you would like to fill out the Mem­ber­ship Appli­ca­tion and Waiv­er Form in advance, please click on the links below to print the forms.
Turn in the forms with pay­ment at any tour­na­ment reg­is­tra­tion or mail to:
San Diego Archers
PO Box 2205
La Mesa, CA 91943