SDA 900 Round – 21 May 2017
SDA 900 Round
The San Diego Archers
Will host the SDA 900 Round
This Sunday, May 21, 2017
At the Morley Field Range
Registration opens at 7:30am
Registration Closes at 8:45am
Shoot begins at 9am
The SDA 900 Round includes:
30 arrows per distance
Adult Distances: 60, 50, 40 yards
Youth Distances: 50, 40, 30 yards
Cub Distances: 30, 20, 10 yards
This is a 90 arrow (900 points) round, shoot­ing 5 ends (or groups) of six arrows at each of 60, 50, 40 yards for adults, 50, 40, 30 yards for youth and 30, 20, 10 yards for cubs. There will be a five-minute time lim­it to shoot six arrows. Tar­get is 122 cm in diam­e­ter, divid­ed into five con­cen­tric col­or zones arranged from
There will be a five-minute time lim­it to shoot six arrows.
Tar­get is 122 cm in diam­e­ter, divid­ed into five con­cen­tric col­or zones arranged from cen­ter out­ward as fol­lows: Yel­low, Red, Blue, Black and White. Each con­cen­tric col­or zone is divid­ed into two con­cen­tric cir­cles, result­ing in 10 scor­ing zones.
Arrows shall be scored as fol­lows:
Inner Yel­low-10, Out­er Yel­low-9, Inner Red-8, Out­er Red-7, Inner Blue-6, Out­er Blue-5, Inner Black-4, Out­er Black-3, Inner White-2, Out­er White-1; all oth­ers shall be scored as an "M" (miss).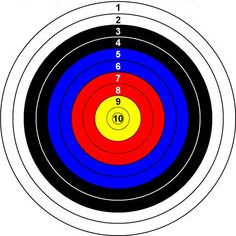 Scoring: 10–9-8–7-6–5-4–3-2–1-M
Maximum Score: 900
Entry Fee:
$10 for SDA members & Active Duty Military
$15 for non-members.
Please arrive at the Mor­ley Field Range with plen­ty of time to reg­is­ter.
Paper shoots may be can­celed due to heavy rain (Ani­mal, Hunter, Field Rounds).
3D Shoot are NOT can­celed because of bad weath­er!
If you would like to fill out the Mem­ber­ship Appli­ca­tion and Waiv­er Form in advance, please click on the links below to print the forms.
Turn in the forms with pay­ment at any tour­na­ment reg­is­tra­tion or mail to:
San Diego Archers
PO Box 2205
La Mesa, CA 91943
Don't know your spe­cif­ic bow style? Check out this great chart from CBH!