Upcoming San Diego Archers Events!
Coming Up in 2019!
Sunday, Jan 7: The 1st 3D Round of the year at the Balboa Park Rube Powell Archery Range! All archers are welcome. This is a great time to try out your new holiday toys!
Saturday, Jan 12, ALL DAY, Temporary Range Closure: The Museum of Man is bringing in equipment to their building near Target 1 & 4. The Park has requested we close the Balboa Park Rube Powell Archery Range completely on Saturday, Jan 12.
Monday, Jan 14, SDA Championship Awards Banquet: Harbor House Restaurant, Seaport Village. All active 2018 SDA Members will be receiving an email this week with details.
Sunday, Jan 20, Animal Round: Rube Powell Archery Range.
Sunday, Feb 3, Flying Pig 3D: It's that time of year again for our 6th ANNUAL FLYING PIG 3D TOURNAMENT & FUNDRAISER!! This is one of our most popular novelty shoots and a wonderful fundraiser for great organizations. If you have any donations you would like to contribute to our drawing (gift certificates, archery equipment, services, etc.), just let us know! This year's recipient of our fundraising efforts is:
Shelter to Soldiers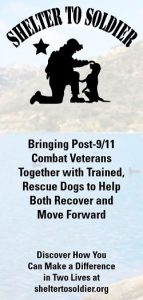 For more information about this amazing organization, please visit their website HERE or download the following report:
Stay tuned for more details about each event!
Check for the latest updates on the San Diego Archers Facebook group for SDA members HERE.