BONUS WEEKEND! Friday Night Lights Potluck for Ed Herrera
AND
3D Round with Range Finders Allowed!

Friday Night Lights Potluck
At the Morley Field Archery Range
Friday, August 31, from late afternoon until ~9pm
One of our FAVORITE Morley Range Captains, Ed Herrera, is back in town for the weekend (Steve T & Thomas P are also doing a great job as Morley Range Captains!) Bring some food to share/BBQ, drinks (non-alcoholic, of course), and your bow. Lights will be put up on targets at dusk. We pack up by 9pm (gates are locked at 9:30pm)
ALSO:
3D Round with Range Finders Allowed
This Sunday, September 2, 2018
At the Balboa Park Rube Powell Archery Range
Registration opens at 7:30am
Registration Closes at 8:45am
Shoot begins at 9am
The 3D Round includes:
28 3D Animal Targets
1 Arrows per Target
Maximum Score: 280
Rangefinders ARE allowed!!
A wide range of high-quality Rhinehart and Mackenzie targets are set in various hunting scenarios. Only one arrow per target is allowed unless mulligans have been purchased. A maximum of two mulligans and one or two doe tags may be purchased at registration for an additional $1 each.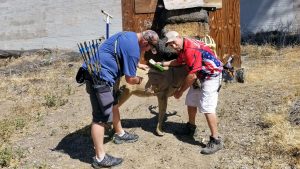 Scoring: 10-8-5
Maximum Score:
…
Read more »