Details

Author: Admin2
Sunday, Sept. 7, 2014
San Diego Archers Unmarked 3D Shoot to benefit the EOD Warrior Foundation
Join us for the September 7, 2014 Unmarked 3D Shoot at the Balboa Park Rube Powell Archery Range in support of the EOD Warrior Foundation! 
WHEN:    Sunday, September 7, 2014, 9am
WHERE:  Balboa Park Rube Powell Archery Range,
                 next to the Alcazar Garden.
                        (http://www.balboapark.org/sites/default/files/balboaparkmap.pdf)
COST:      Members: $10
                  Non-Members:  $15
                  14 and under:  FREE!
REGISTRATION:    Registration opens at 7am.
                                       Registration closes at 8:45am
                                       Shoot begins at 9am. 
*All proceeds from our September 7th Unmarked 3D Shoot will be donated to the EOD Warrior Foundation.  The EOD Warrior Foundation is a 501(C)(3) nonprofit organization that provides assistance to wounded EOD warriors, families of wounded and fallen EOD technicians and honors fallen EOD personnel.  The Foundation's support of EOD warriors and their families is only made possible through the generosity of others.
 For more information on this impressive organization, please visit their website at: 
Details

Author: Admin2
MORLEY FIELD UPDATE 
THANK YOU to SDA Member Chris Pike, proprietor of San Diego Paint Pros and California Paint Experts, for painting our new backstop fence at Morley Field.  SDA members were all set to paint part of the fence after the Tuesday League shoot on July 1st (we thought it might take two evenings to complete).  Chris showed up with his compressed air sprayer, run off of his truck, just two hours before the League started.  He had BOTH sides of the fence finished before our 6pm start time.  Thank you to Anthony Andersen and Larry Lyford for assisting Chris.  The fence looks GREAT!
Details

Author: Admin
2014 King Arthur Tournament 
THANK YOU to everyone who volunteered and participated in this year's King Arthur Tournament on Father's Day, June 15th.  It was another successful event, with over 200 archers battling for the top score.  In the end, there were tie scores for both 1st and 2nd place.  
Out of 924 total points, shooting AMFS, Buddy Lucas & Ken Wagner each scored 910 points for 1st place. Scott Jones & Jason Null tied for 2nd place with 909 points each. Sylvester Cooper came in 3rd with 905.  HOWEVER, Don Snipes, shooting SMFS, scored 908!  Impressive shooting all around, dropping only 14-16 points across 40 targets and 80 arrows.  The two steel target butts looked like porcupines by the end of the day with all the shattered arrows.  Bow shop owners and arrow makers are grinning widely at this news. 
Other very notable scores from the under 18 contenders:  High score in the Cub Class goes to Kristin Alvarez (CFSRC), who scored 815. In the Youth Class, Thomas Hayes (YMBHFS) scored 822. And in the Young Adult Class, Humberto Arellano (YAMFSL R/L) scored an impressive 842!  
From the slightly over 18 contenders: The highest Master Senior score goes to Salvador Morya (MSMFS) with 819.  Big Rob must have slept in this year, the highest Trad score came from Jim Valazquez (SMTRAD) with 627.  Great shooting, everyone! 
The San Diego Archers would also like to thank our Sponsors and everyone who contributed donations for the tournament.  Your support every year is greatly appreciated! 
Next year, the 2015 King Arthur Tournament will coincide with the Centennial Celebration of Balboa Park.  We are looking forward to an even bigger and better event then!  
See you next year!
Details

Author: Graham
San Diego Archers
2014 Summer Outdoor League.
If you want to improve your archery skills this is the place to do it. It is competitive, friendly and good value for money..... What more could you want? Only $5 per shoot (or save and pay $30 per leg upfront)
Our league is very competitive and yet still friendly, our handicap scoring system levels the playing field and allow all contenders to battle for the league championship title.
We will be holding three legs: Each leg will be 7 weeks long
Leg 1: Mini (1/2) 900 round 60-50-40 yards 3-5 arrow ends (Tuesdays Apr-15 to May-27)
Leg 2: 3D paper target 40-30-20 yards 3-5 w ends (Tues Jun-3 to Jul-15)
Leg 3: Mini (1/2) 900 round 60-50-40 yards 3-5 arrow ends (Jul-22 to Sep 2)
Knock out-Final elimination round Sep 9- details to be decided...
Every third week we have a post shoot BBQ catered for by Abbeys Real BBQ (aka Dorian) 
Details

Tuesday, 03 September 2013 04:41
Author: Super User
For new or experienced archers who are coming to the Balboa Park Range for the first time, Welcome!  For your safety and enjoyment, a few things to keep in mind:  There is a directionality to the course.  Please check out the map posted San Diego Archers notice board on the fence just outside Balboa Range practise area.  Print out a copy of the map below or take a picture of the map with your cell phone for easy reference.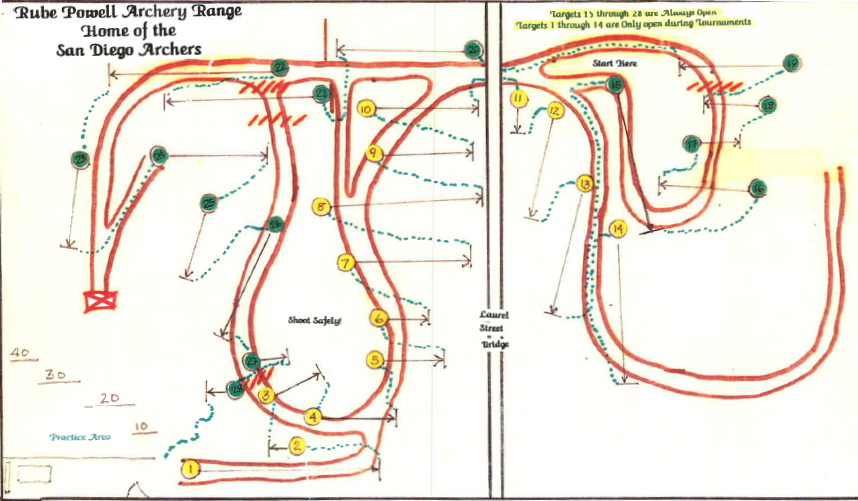 It is a walking range, so if you park yourself at one target and other archers approach, please be courteous and allow them to shoot through....step aside.