2016 Club Championship Awards Are In!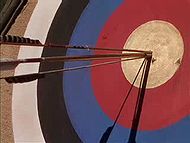 2016 Club Championship Results!
Any mem­ber who has scores record­ed from at least one each of: 3D Round, Ani­mal Round, Field Round & Hunter Round is eli­gi­ble for Club Cham­pi­onship Awards. The high­est cumu­la­tive score is giv­en the Club Cham­pi­onship Award for each bow style. All oth­ers are award­ed Club Cham­pi­onship Qual­i­fi­er Cer­tifi­cates. Awards are hand­ed out at the San Diego Archers Annu­al Hol­i­day Ban­quet & Awards Cel­e­bra­tion held on the Mon­day evening fol­low­ing the last shoot of the year. The ban­quet is FREE to all mem­bers (guests are wel­come for an addi­tion­al fee)!
Congratulations to Sylvester Cooper!
He is the 2016 Club Cham­pi­on with the high­est cumu­la­tive score of 1927 + 74 X's in the Adult Male FreeStyle class!
He also won the 2015 Club Cham­pi­onship with a score of 1920 +130 X's.
Print­er-Friend­ly 2015 Club Cham­pi­onship Results
Below are lists of the Top 20 Scores and Top 20 X-Counts
Print­er-Friend­ly 2016 Top 20 Scores and X-Count
---
2015 Club Cham­pi­onship Results
Print­er-Friend­ly 2015 Club Cham­pi­onship Results