2016 Club Championship Awards Are In!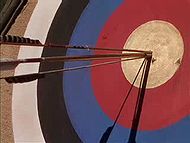 2016 Club Championship Results!
Any member who has scores recorded from at least one each of: 3D Round, Animal Round, Field Round & Hunter Round is eligible for Club Championship Awards. The highest cumulative score is given the Club Championship Award for each bow style. All others are awarded Club Championship Qualifier Certificates. Awards are handed out at the San Diego Archers Annual Holiday Banquet & Awards Celebration held on the Monday evening following the last shoot of the year. The banquet is FREE to all members (guests are welcome for an additional fee)!
Congratulations to Sylvester Cooper!
He is the 2016 Club Champion with the highest cumulative score of 1927 + 74 X's in the Adult Male FreeStyle class!
He also won the 2015 Club Championship with a score of 1920 +130 X's.
Printer-Friendly 2015 Club Championship Results
 Below are lists of the Top 20 Scores and Top 20 X-Counts
Printer-Friendly 2016 Top 20 Scores and X-Count
---
2015 Club Championship Results
Printer-Friendly 2015 Club Championship Results