Iron Turkey 3D Challenge & Honor Our Military Shoot (SATURDAY) – 31 October 2020
Iron Turkey 3D Challenge Novelty Shoot

All branches of the U.S. Military, active duty and retired, shoot for FREE (with ID)
The San Diego Archers
Will host the Iron Turkey 3D Challenge
On Saturday, 31 October 2020
At the Balboa Park Rube Powell Archery Range
Registration is all online.  Follow the links to register for the tournament, get a start time and pay for mulligans, doe tags and entry.  (LINKS HERE)
Remember to bring your mask and maintain social distancing!

We are happy to announce San Diego Archers is an approved Combined Federal Campaign charity!  Please consider selecting San Diego Archers for your CFC charity dollars by designating #77252 on your form.
The Iron Turkey includes:
34 3D Targets
1 Arrow per Target
Maximum Score: 355
Rangefinders allowed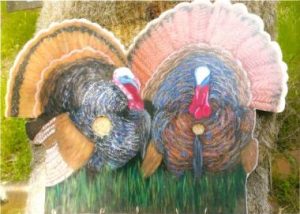 Legend has it that deep within the undergrowth of Balboa Park struts the voracious Iron Turkey. Many a bold archer has risked arrow and limb confronting the fiend, only to have their precious shafts shatter to shards of carbon upon the beasts iron scaled hide.
The tale goes that one courageous archer, known only as Dave the Dauntless, fired a magical black arrow at the fowl beast. This shot broke away small scales from its Iron-clad breast revealing two small vulnerabilities. A mighty archer of great skill and cunning could exploit this weakness and successfully impale the creature, as for the rest…. Your arrows will surely splinter.
This is a 34 target, ONE arrow per target shoot, including the Iron Turkey and many other interesting shots to test your skill: The Blind Shot, the Jakes, and the Distant Gobbler.  Additionally, this Iron Turkey falls on a Halloween, some targets will have a spooky theme!  Come and see…if you dare!
Hone your skills in anticipation, shoot until your limbs ache and your fingers bleed, for that is what it will take to triumph in this challenge.
Entry Fee:  Active Duty and Retire Military Shoot for Free this Weekend
$10 for SDA members
$15 for non-members.
Please arrive at the Balboa Park Archery Range prior to your registered start time and link up with your shooting party.  Be ready to go when it is your time; check the timesheet.  If we can get you started early, that would be good too.  Once you've completed your 3D round, you can post your score in real time here.  Check how you did with others in your same bow class and age group here.
If you would like to fill out the Membership Application and Waiver Form in advance, please click on the links below to print the forms. 
Send your completed waivers and membership form to SanDiegoArchers@gmail.com to complete your registration process.  Thank you for joining and supporting San Diego Archers!