**ATTENTION ALL ARCHERS**
It is time for the
Annual Flying Pig 3D Tournament & Fundraiser!!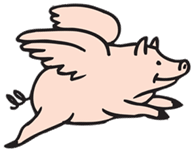 This Event will be a Fundraiser for
the Shelter to Soldier Organization.
The San Diego Archers will match 100% all funds raised at the Flying Pig 3D and donate the entire collection to Shelter to Soldiers!
DONATIONS STILL BEING ACCEPTED!
PRINTABLE SDA DONATION LETTER (W/ TAX ID#)
PRINTABLE FLYING PIG FLYER!

Shelter to Soldier – Saving lives, two at a time
Bringing Post-9/11 Combat Veterans Together with Trained Rescue Dogs
to Help Both Recover and Move Forward. Shelter to Soldier adopts dogs from local shelters and trains them to become psychiatric service dogs for post-9/11 combat veterans suffering from Post-Traumatic Stress (PTS), Traumatic Brain Injury (TBI) and/or other psychological injuries associated with traumatic service experiences. Shelter to Soldier is a 501c3 Nonprofit Organization.… Read more »